I wrapped up well and struggled out into the snow. Once outside I realised that my neck was really cold. It struck me that I needed a scarf. I can't remember that happening before. I can't remember when I last wore a scarf. I wasn't even sure I had one.
I retreated indoors and rummaged around in the wardrobe. To my surprise, I came across a nice black scarf. I don't remember ever seeing this garment before. I've no idea where it came from.
Pondering the matter - quite suspiciously - I noticed that the scarf smelled of perfume. Quite nicely, in fact. This was odd. Where has this mysterious perfumed scarf come from? I'm baffled. Did some lover storm out in the huff, leaving the garment behind? Always possible, given my poor track record in relationships. Right this moment she might be thinking '
What a useless boyfriend he was. And he stole my scarf.
'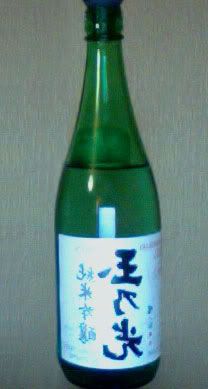 But I can't remember anything like this happening. It's a mystery. How long would perfume last on a scarf anyway? Not long, I wouldn't have thought. Or maybe it would, if it was high quality merchandise. Anyway, I'm now wearing the scarf. And probably smelling slightly more perfumed than usual.
London is thickly covered with snow. This is a big pain. I have purchased Tamanohikari Super Premium Ginjo Pure Rice Sake over the internet, and am warming myself with this fine Japanese product.