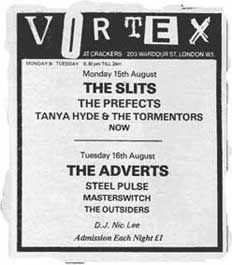 ...I was at a punk gig in the Vortex Club in London. I saw the Slits and the Prefects. (I was surprised to actually find the original advert for this gig, on
punk77.co.uk
) The Vortex was never as hip a punk rock club as the Roxy, because it opened later, but I still saw a lot of good gigs there.
Off the top of my head, bands I remember seeing in this small venue include Siouxsie and the Banshees, The Rezillos, Generation X, Penetration, The Models (featuring Marco Pirroni) The Slits, The Adverts, Sham 69, Menace, and various others.
The Prefects were a strange band, shambolic even by the standards of the time. I remember them quite fondly, before they disappeared without trace. The Slits went on to have success, though I was never a big fan. I liked them when they were a noisy punk band, but they soon stopped being that. In fact, the only record of the way the Slits sounded in their early days is on the first John Peel session they recorded. That's still a favourite of mine. But by the time they made their first album, they'd changed, and played a lot of different, reggae-influenced music, which I never much enjoyed. I was still young, and only a fan of noisy buzzsaw guitars. I suppose you can't blame a band for wanting to move on from that.
Something I remember about this gig was that after the Slits finished playing, they did an encore and the Prefects came back to join them onstage. The played Louie Louie together, which was unusual. Louie Louie wasn't a song original punk bands played by any means, in fact it would have been seen as rather old-fashioned. But anyway both bands combined for some sort of cacophonous version of it, and it was great. I remember Ari Up, the Slits singer, riding piggy back on the shoulders of the Prefects singer.
Hmmm. More punk rock memories from the 70s. Well at least I'm not having a mid-life crisis or anything.
This is how the Slits sounded in their early days. The song is called
Vindictive
-