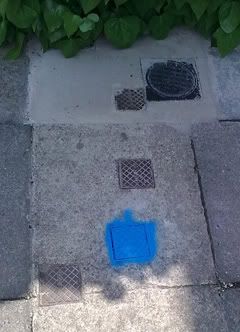 Outside the front door of my block there are some small metal covers, all marked 'stopcock.' Recently one of these metal covers has been mysteriously painted blue. I'm very suspicious about this. Why has it happened?
I walked down the block, looking at the other entrances. There are similar small metal covers on the pavement outside other doors. None of them have been painted blue. Or painted at all.
It all seems very suspicious to me. And a little worrying. What can it mean? At present, I'm leaning towards it being a signal to aliens. At this moment, they might be looking at my front door through giant telescopes, and thinking '
that's the place.'
Less likely, but not impossible, assassins have marked my flat for a sudden deadly strike.
Could it be a secret sign, like in
The Hobbit
, when Gandalf scratches a mark on Bilbo's door, and all the dwarves arrive, thinking Bilbo is an expert treasure hunter? Hmmm. Actually, I've always thought that was quite likely to happen to me one day. I'm sort of expecting to have to help dwarves battle a dragon at some time or other.
It all bodes ill. Secret and mysterious marks outside your house can't be good. I don't like it.