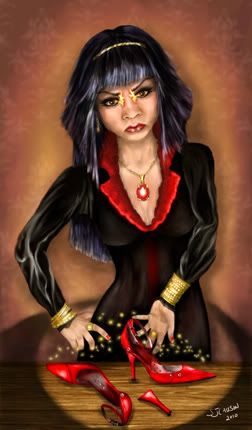 Here is a digital painting of Queen Malveria, by Sam Causon, which she's posted on her
deviant art page
. I am very fond of this image.
An angry Malveria, with flames flickering around her eyes, is complaining to her friend and fashion designer Thrix MacRinnalch that the heel on her new shoes has broken. It was a very upsetting experience for the Queen. Though, as Thrix does point out, she shouldn't really expect a fashion item like these high heels to survive a harsh environment like the Great Volcano. It's an early scene in
Lonely Werewolf Girl
, and writing that scene went a long way towards setting the tone of the book. I remember being pleased with it at the time.
--
I'm not so pleased that every time I log into Facebook an advert appears on my page inviting me to try a '
Mature Dating Service
.' Hum. Is this advert targeted specifically at me? Surely there is some mistake. My targeted ad should say something like 'Hello you handsome young stud, here are some glamorous movie stars who want to meet you.' Must send Facebook a strong complaint about the mix up.