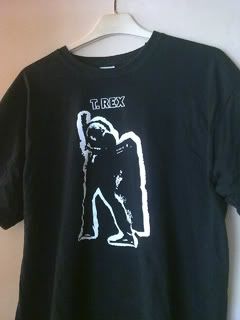 Last week I did an telephone interview with a Scottish newspaper, the Daily Record, which went well.
I used to deliver newspapers, including the Daily Record, in the morning, when I was at school in Scotland. That was OK, as far as I remember. I didn't mind delivering papers. Possibly there were a few harsh words bandied about when I encountered the milk boys - uncivilised louts, mostly - but nothing too serious.
It does feel like a very long time ago, however. Thinking about my paper round left me feeling old. Gloomy about this, I decided to cheer myself up by immediately buying a T-Rex t-shirt from eBay. And I felt very pleased with this garment, before reflecting that really, you'd have to be quite old to actually buy a T-Rex t-shirt. Hmm. Still, I like my new t-shirt. I put it on then watched some videos of T-Rex on youtube. I have always been a big fan of the band, and Marc Bolan surely remains unsurpassed as the prettiest male pop star in history.