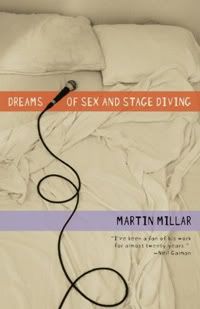 Soft Skull's re-issue of
Dreams of Sex and Stage Diving
is now available in the
USA
. As always, the publisher has produced a nice edition with a good cover. Soft Skull have really done a good job publishing my books in America.
This edition will be available in Britain a little later - August, according to
amazon.co.uk
Curse of the Wolf Girl
will be published in Germany in September this year, and in Italy in November. I'm not yet certain of the date for Greece.
--
I'm currently playing
Prince of Persia
on my new PS3. This is rather different from the
Prince of Persia
PS2 games, but still very good. The
Ratchet and Clank
PS3 games were great as well. (I should thank the friend who introduced me to both these series of games.) If only these games companies can keep putting out such fine products, I may never have to write, think, socialise, or even leave the house ever again. I quite like the sound of this.