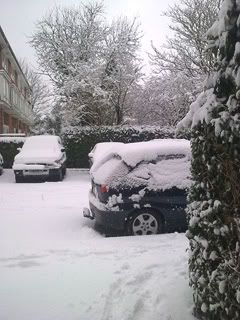 I've been shivering in the cold as London disappeared beneath the snow. My flat can take a while to heat up, leading to some muttering and cursing while I'm waiting to get warm. Once fully heated, I find it difficult to move from the couch, just in case it's not so cosy anywhere else.
However I have been carrying on with the long walk to the shops which I do everyday, because otherwise I'd never go anywhere. This long walk has proved hazardous. The roads were gritted but not the pavements, which became quite dangerous, with compacted snow and ice.
We had a milder day yesterday and a lot of the snow disappeared, but the temperature has dropped again so I think we might get more. I can't help feeling a bad accident is just around the corner. I may soon be discovered unconscious under a snowdrift, still clutching a box of tea bags and a packet of hobnobs.
The only thing getting me through the freezing misery is football, and I watched a lot over the weekend, much of it involving shouting and shaking my fist at the TV. It ended well for Arsenal, due mainly to the overwhelming brilliance of Samir Nasri.
Am now attempting to plug up some of the draughts in this flat, and stop the cold air seeping in. Unfortunately I'm useless at this, as I'm completely hopeless at anything practical. I should have learned how to do practical household tasks some time, but unfortunately I never seem to have managed.