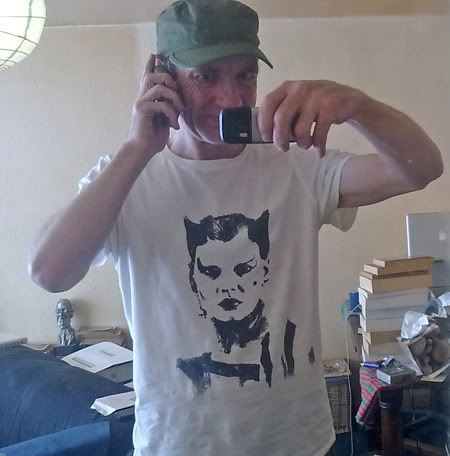 Here I am in my new Soo Catwoman t-shirt, which I love dearly. Notice the expression of deep concentration as I struggle with the difficult task of taking a picture and talking on the phone at the same time. Afterwards I had to sit down and rest.
Also in picture - MacBook Pro, box it came in, nice little tartan head-scarf, World Fantasy Award, box of tissues, edge of trusty old Mac iBook, blue mug, assorted books, wicker basket containing socks, TV remote and envelope containing bill for something.
I bought this t-shirt from Catwoman Clothing which is the creation of Dion, Soo's daughter. To paraphrase her daughter's words, very many people have used pictures of Soo Catwoman over the years, on books, magazines, posters, clothes, record sleeves and so on, without either asking permission or paying any money, so now they're reclaiming it.
You can buy various designs of these t-shirts either at
Catwoman Clothing's Myspace
or
Soo Catwoman's website
.
Here's another picture of one of their t-shirts -