It was with some distress that I realised I couldn't find my elderly cassette copy of
Nice Enough To Eat
, an album released by Island Records in 1971. A sampler, as it was called then, featuring tracks from various bands.
This is a severe loss, not only because of the fab version of
Gungamai
by Quintessence, but also because I really felt like listening to
I Keep Singing That Same Old Song
by Heavy Jelly. Heavy Jelly were really - as almost none of you will be interested to hear - Skip Bifferty, recording under a false name, for contractual reasons. Which is quite a well-known story to anyone with a dull and pedantic interest in early 70's and late 60's obscure British prog rock / psychedelia. And I have never been one to shy away from dull and pedantic interests.
Dammit I really want to hear that Heavy Jelly song. Not surprisingly, there is no sign of this obscurity on iTunes, or Youtube. I will now have to tear the house apart, looking for this old cassette.
Nice Enough To Eat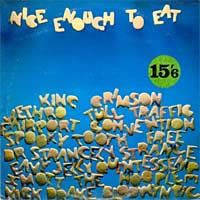 Side one
1.
Cajun Woman
– Fairport Convention
2.
At the Crossroads
– Mott the Hoople
3.
Better By You, Better Than Me
– Spooky Tooth
4.
We Used To Know
– Jethro Tull
5.
Woman
– Free
6.
I Keep Singing That Same Old Song
– Heavy Jelly
Side two
1
Sing Me A Song That I Know
– Blodwyn Pig
2.
Forty Thousand Headmen
– Traffic
3.
Time Has Told Me
– Nick Drake
4.
21st Century Schizoid Man
– King Crimson
5.
Gungamai
– Quintessence
6.
Strangely Strange But Oddly Normal
– Dr. Strangely Strange
Aarrgghh there are a lot of good songs there, I must find it again.