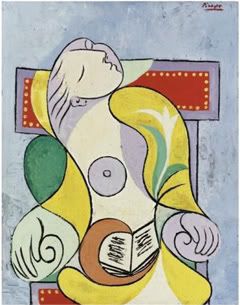 I like this painting by Picasso, sold last week at auction for £25 million. It depicts Marie-Therese Walter, with whom Picasso had a long affair. Picasso met her at a tube station in Paris in 1927. She was 17 at the time and he approached her with the line 'I am Picasso. You and I are going to do great things together.' I couldn't help but be impressed with Picasso for this. What a rogue. Am now eager to try it out. There isn't a tube station nearby but there is a large bus station so I'm off to give it a try. What could go wrong? I can definitely see this working out well.
It's Valentine's day. This generally reminds me of the tragic scene in Buffy when Xander gives Cordelia a necklace as a Valentines present. She immediately breaks up with him, thereby crushing Xander's spirit. Cordelia was a wonderful character in Buffy. I was sorry when she left the show, and she was never so good in Angel.
But in the main scandal of the day, my local Sainsbury's supermarket is now charging £1 for a packet of hobnobs! My favourite biscuits - or cookies - have rocketed in price. I was staggered when I noticed this. No doubt using the recession as an excuse, Sainsbury's have whacked up the price. It's scandalous. Only a few weeks ago they were 85 pence, and in fact quite recently they were on sale for the reduced price of 45 pence. Now it's a pound for a packet! I'm completely outraged. Hobnobs are a large part of my staple diet. I depend on them. £1 for a packet of Hobnobs. It's just not right. May stage protest outside the shop, with an angry placard.