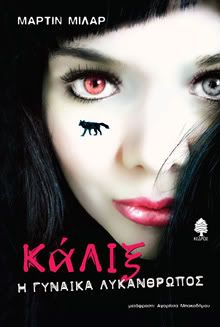 I just received a box of books from my Greek publisher - Κάλιξ: Η γυναίκα λυκάνθρωπος. I'll give one of these away to the first person from Greece who wants one. Leave a message here, and
email
me your address, and I'll sign the book and send it to you.
I was worried by recent 'good neighbour day' or something like that, in which people were encouraged to meet their neighbours. Maybe even share a meal with them, I think. Am appalled by the thought. If I wanted to meet my neighbours, I wouldn't live in London. I rely on Londoners' mutual suspicion and hostility to prevent me from having to talk to any of these people.
Nervous in case some neighbour might knock on my door, asking me to share a meal, I lie on the couch, listening to the New York Dolls.
A new bad girl
Moved in on my block
I gave her my keys
Said 'Don't bother to knock.'
Risk a quick glance out the window, hoping some bad girls might be moving into my block. No sign of any. I suppose it's not very likely really. Life is rarely like a New York Dolls song. Probably when I get carried off to hospital with swine flu, there won't be a rock'n'roll nurse there either.