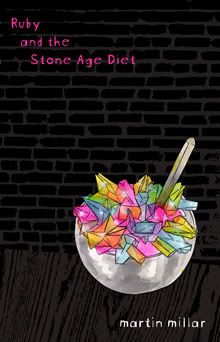 Softskull have just sent me some copies their new edition of
Ruby and The Stone Age Diet
. The official re-issue date is 1st January, though I've noticed that Softskull often get my books into shops earlier than the release date.
I'm pleased this book is now back in print. Unlike certain other books among my backlist, which tend to make me bury my face in my hands, wailing
Did I really write this?
, I've always liked
Ruby and the Stone Age Diet
. Nice new cover from Softskull too.
I remember when I wrote it, at the end of the 80s, I lived in a bedsit in South London. That was unusual, because I'd been squatting, then sharing a flat, and didn't really expect to end up in a tiny little bedsit, which was one room, with a bed taking up most of the space, with a cooker in one corner and a sink in the other. But I had to move house very quickly, due to the craziness of the people I was living with before that. (Some of who's exploits I mentioned in an earlier blog, which was reprinted as an intro to the new edition of
Lux the Poet
) So I just ended up there. It wasn't a great place to live. Still, I wrote Ruby there, before moving on, so it wasn't a complete waste of time.
I always get a box of these books. I should give a signed copy away as a prize for something (Lawyers tell me that my former practice of offering them as bribes for sex may be illegal) But I can't think of any sort of competition that wouldn't be tedious. Well they can just sit in the box for a while, I suppose. Eventually I always give them away.